Trees
We grade our trees according to three categories:
Premium - Uniform tree with good colour
Standard - A tree with one visible fault
Regular - A tree with two visible faults
Nordmann Fir

The Nordmann Fir is the last word in non-drop Christmas trees, and is one of the most popular trees in the UK. With a deep green colouring to compliment a deft aroma, it is one of the classiest trees in the northern hemisphere. We stock premium, standard, and regular Nordmann Firs.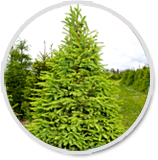 Norway Spruce

The Norway Spruce is the Christmas tree you'll find each year in Trafalgar Square - and for good reason. This prestigious tree is some kind of wonderful, and has a very original fragrance that always reminds us of Christmas. We stock premium grade only of this tree type.
Pot Grown

The Pot Grown Christmas tree has been grown in its container, and always get folk talking in Christmas tree stores. Bulky but excellent to look at, they can actually be planted after xmas. At Bolton Christmas Trees, we stock Pot Grown Nordmann Firs and Pot Grown Norway Spruces.
Lodgepole Pine

The Lodgepole Pine tree is very popular with Christmas lovers up and down the UK. It looks like a candle, which is one of its most endearing qualities, while needle retention is fantastic. We grow and stock only premium grade Lodgepole Pines.
Fraser Fir

The Fraser Fir is actually a recent import to the UK, and is seen as a solid alternative to the Nordmann Fir. Beautiful and with super fine needles, it's narrower than most other trees. We stock both premium and standard grades of this tree type.
Korean Fir

The Korean fir tree is a more compact tree than its counterparts, though it grows to be very tall. Beautifully coloured in dark green, it's a tree that is becoming increasingly popular. We stock premium grades trees only.